Urban conflictivity in Chalco, notes on a contemporary socio-anthropological problem/Conflictividad urbana en Chalco. Notas sobre una problemática socioantropológica contemporánea
José Gustavo Casas Álvarez

"CIISDER, Universidad Autónoma de Tlaxcala"
Abstract
The study of conflicts between different actors of dynamics of urbanization has been a matter of interest for political science, sociology, demographic history and urbanism. In particular, it has been significant for this work to find, in the conceptualization of Victor Turner's social drama, an opportunity for a specific anthropological framework to address urban conflictivities. This paper deals with the conflict between actors of a particular urban growth dynamic, construction of large-scale popular housing in metropolitan territories of the central zone of Mexico, particularly the case of an urban social interest set in the municipality of Chalco, State of Mexico, between 2005 and 2007. They were found in collective actions, the phases of the construction of a social drama, as well as through the search of newspaper references and observation in the field, were confirmed: a production policy of popular housing received negatively in a specific territory, citizen groups in resistance were identified, by coordinating both collective actions and discursivity on the metropolitan territorial problems. Issues that allow, on the one hand, to exemplify the adaptability of the conceptualization of Turner's social drama in urban contexts, outside the ethnological tradition; on the other hand, to find in the generality of drama, the singular manifestations of
actors interested in the project of population and urban growth in their immediate surroundings
References
Boils, Guillermo. (2004). El Banco Mundial y la política de vivienda en México. Revista mexicana de sociología, 66(2), 345-367. Recuperado en 03 de febrero de 2017, de http://www.scielo.org.mx/scielo.php?script=sci_arttext&pid=S0188-25032004000200004&lng=es&tlng=es.
Casas Álvarez, José Gustavo (2012). Sembrando casas: procesos de urbanización, drama social e identidades colectivas en el municipio de Chalco, Estado de México. Tesis para optar por el grado de Doctor en Antropología Social, México, ENAH.
Delgado, Manuel (1999). El animal público: hacia una antropología de los espacios urbanos. Barcelona, Anagrama.
Hannerz, Ulf (1986). Exploración de la Ciudad. Hacia una antropología urbana. México. FCE.
Harvey, David (2000). El nuevo urbanismo y la trampa comunitaria. Barcelona, España. Diario La Vanguardia, Noviembre 26, pág. 34.
Mattelart, Armand y Mattelart, Michel (1987). Pensar los medios. Comunicación y crítica social. Madrid, FUNDESCO.
Ortíz Boza, María de Lourdes (2007). Estereotipos masculinos y femeninos en una campaña de planificación familiar, en Revista Ra Ximhai, mayo-agosto, año 3, vol. 3, número 2, México, UNAM, pág. 307-324.
Park, Robert E. (1925). The City. Chicago, University Press.
Pedrotti, Carolina (2013), Política urbana y la operación de la política habitacional reciente en el Estado de México, en Iracheta, Alfonso (coord.), Reflexiones sobre Política Urbana, Zinacantepec, El Colegio Mexiquense, A.C., México.
Salazar, Clara e Ibarra, Valentín (2006). La migración intraurbana y la movilidad cotidiana en la Zona Metropolitana de la Ciudad de México, en Álvarez, Enríquez; San Juan, Carlos; Sánchez, Cristina. Democracia y exclusión. Caminos encontrados en la Ciudad de México. Plaza y Valdés, INAH, UACM, UAM, UNAM, México, pág. 325-344.
Signorelli, Amalia (1999). Antropología Urbana. México, Anthropos/UAM-Iztapalapa.
Turner, Victor (2002). Dewey, Dilthey y Drama. Un ensayo en torno a la antropología de la experiencia, en Antropología del Ritual. México, CONACULTA/INAH, pág. 89-102.
Troitiño Vinuesa, Miguel (2000). Ciudades históricas, turismo y desarrollo sostenible, en Ciudades históricas: conservación y desarrollo. Encuentros sobre patrimonio. España, Madrid, Visor, pág. 67-96.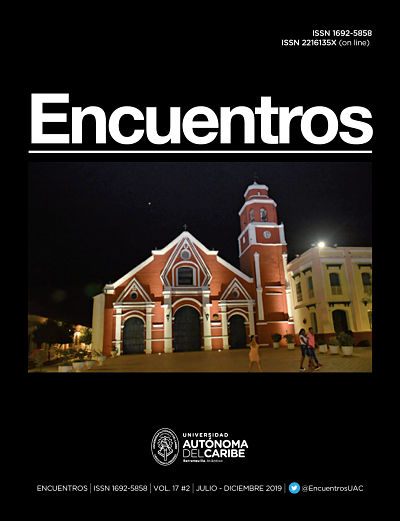 How to Cite
Casas Álvarez, J. G. (2019). Urban conflictivity in Chalco, notes on a contemporary socio-anthropological problem/Conflictividad urbana en Chalco. Notas sobre una problemática socioantropológica contemporánea. JOURNAL ENCUENTROS, 17(02). https://doi.org/10.15665/encuent.v17i02.1024
Copyright (c) 2019 José Gustavo Casas Álvarez
This work is licensed under a Creative Commons Attribution-NonCommercial-NoDerivatives 4.0 International License.