Impacto de investigaciones sobre grafitización de antracitas durante los años 1960-2018/Impact of research on anthracite graphitization during the years 1960 - 2018
Palabras clave:
Antracitas, Grafitización, Carbono, Bibliometría/Anthracites, Graphitization, Carbon, Bibliometric
Resumen
Este trabajo describe la contribución de los investigadores de todo el mundo en el campo de la grafitización de antracitas en el período comprendido entre 1960 – 2018.  Se desarrolló un análisis bibliométrico para examinar las publicaciones científicas en este campo utilizando las bases de datos Scopus Elsevier, Journal Citation Reports, Scimago Journal & Country Rank y herramientas informáticas.  Se analizaron diferentes aspectos de las publicaciones tales como tipo de publicación, principales áreas de investigación, principales revistas, citaciones,etc. Los artículos publicados provienen principalmente de China, Estados Unidos, Francia, España, Japón y Canadá con un número de publicaciones de 75, 37, 32, 27, 18 y 16 respectivamente.  Los resultados ayudarán a los investigadores a comprender la situación actual de la investigación en el campo de la grafitización de antracitas.
Citas
J. V Atria, S. Zeng, F. Rusinko, and H. H. Schobert, "Novel Approach to the Production of Graphite from Anthracite.," American Chemical Society, Washington, DC (United States), 1994.
J. M. Andrésen, C. E. Burgess, P. J. Pappano, and H. H. Schobert, "New directions for non-fuel uses of anthracites," Fuel Process. Technol., 2004.
J. V. Atria, F. Rusinko, and H. H. Schobert, "Structural ordering of Pennsylvania anthracites on heat treatment to 2000-2900??C," Energy and Fuels, vol. 16, no. 6, pp. 1343–1347, 2002.
S. Rodrigues, I. Suárez-Ruiz, M. Marques, D. Flores, I. Camean, and A. B. García, "Development of graphite-like particles from the high temperature treatment of carbonized anthracites," Int. J. Coal Geol., 2011.
G. B. Skripchenko, "Transformation of the structure and properties of Donets Basin anthracites during thermal treatment," Solid Fuel Chem., 2010.
R. M. Bustin, J. N. Rouzaud, and J. V. Ross, "Natural graphitization of anthracite: Experimental considerations," Carbon N. Y., 1995.
S. Duber, S. Pusz, B. K. Kwiecińska, and J. N. Rouzaud, "On the optically biaxial character and heterogeneity of anthracites," Int. J. Coal Geol., 2000.
D. González, M. A. Montes-Morán, and A. B. Garcia, "Influence of inherent coal mineral matter on the structural characteristics of graphite materials prepared from anthracites," Energy and Fuels, 2005.
F. Hiltmann, M. Bojkowski, B. Jesionek, M. Mikoda, and J. Tomala, "Anthracite evaluation for amorphous cathodes," in Light Metals: Proceedings of Sessions, TMS Annual Meeting (Warrendale, Pennsylvania), 2002, pp. 399–403.
D. Belitskus, "Effects of anthracite calcination and formulation variables on properties of bench scale aluminum smelting cell cathodes," Metall. Trans. B, vol. 8, no. 4, pp. 591–596, 1977.
I. Cameán, P. Lavela, J. L. Tirado, and A. B. García, "On the electrochemical performance of anthracite-based graphite materials as anodes in lithium-ion batteries," Fuel, vol. 89, no. 5, pp. 986–991, 2010.
Y.-J. Kim, H. Yang, S.-H. Yoon, Y. Korai, I. Mochida, and C.-H. Ku, "Anthracite as a candidate for lithium ion battery anode."
M. Nakamizo, R. Kammereck, and P. L. Walker, "Laser raman studies on carbons," Carbon N. Y., 1974.
P. L. Walker Jr. and A. Almagro, "Activation of pre-chlorinated anthracite in carbon dioxide and steam," Carbon N. Y., vol. 33, no. 2, pp. 239–241, 1995.
M. Vanegas, "Estudio del mecanismo de grafitización de antracitas sudafricanas," Universidad de Oviedo, 2012.
R. Falcon, V. Cann, D. Comins, R. Erasmus, P. Den Hoed, and A. Luckos, "the Characterisation of Carbon Reductants in the Metallurgical Industry – a Case Study," no. February, pp. 363–380, 2004.
Y. Yang, Y. Xiao, and M. A. Reuter, "Analysis of transport phenomena in submerged arc furnace for ferrochrome production.," South Africa ISBN, vol. 1, 2004.
P. J. Pappano, F. Rusinko, H. H. Schobert, and D. P. Struble, "Dependence of physical properties of isostatically molded graphites on crystallite height," Carbon N. Y., 2004.
A. Benk and A. Coban, "Molasses and air blown coal tar pitch binders for the production of metallurgical quality formed coke from anthracite fines or coke breeze," Fuel Process. Technol., 2011.
J. M. Andrésen, Y. Zhang, C. E. Burgess, and H. H. Schobert, "Synthesis of pitch materials from hydrogenation of anthracite," Fuel Process. Technol., 2004.
H. Pearson, Handbook of carbon, graphite, diamond and fullerenes: Properties, Processing and Applications. New Jersey: Noyes Publications, 1993.
R. Franklin, "Crystallite growth in graphitizing and non-graphitizing carbons," R. Soc., pp. 196–218, 1951.
T. A. Escorcia, "El análisis bibliométrico como herramienta para el seguimiento de publicaciones científicas, tesis y trabajos de grado [tesis]. Pontificia Universidad Javeriana.," Director, pp. 1–61, 2008.
G. Mao, X. Liu, H. Du, J. Zuo, and L. Wang, "Way forward for alternative energy research : A bibliometric analysis during 1994 – 2013," vol. 48, pp. 276–286, 2015.
K. Zhang, Q. Wang, Q. Liang, and H. Chen, "A bibliometric analysis of research on carbon tax from 1989 to 2014," vol. 58, pp. 297–310, 2016.
B. qiang Lin and J. hua Liu, "Estimating coal production peak and trends of coal imports in China," Energy Policy, vol. 38, no. 1, pp. 512–519, 2010.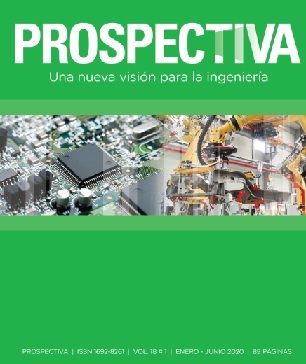 Los autores/as que publiquen en esta revista aceptan las siguientes condiciones:


Los autores/as conservan los derechos de autor y ceden a la revista el derecho de la primera publicación, con el trabajo registrado con la licencia de atribución de Creative Commons, que permite a terceros utilizar lo publicado siempre que mencionen la autoría del trabajo y a la primera publicación en esta revista.
Los autores/as pueden realizar otros acuerdos contractuales independientes y adicionales para la distribución no exclusiva de la versión del artículo publicado en esta revista (p. ej., incluirlo en un repositorio institucional o publicarlo en un libro) siempre que indiquen claramente que el trabajo se publicó por primera vez en esta revista.
Se permite y recomienda a los autores/as a publicar su trabajo en Internet (por ejemplo en páginas institucionales o personales) antes y durante el proceso de revisión y publicación, ya que puede conducir a intercambios productivos y a una mayor y más rápida difusión del trabajo publicado (vea The Effect of Open Access).
Instrucciones para el llenado de la Certificación de Originalidad y la Cesión de Derechos de Autor.
Haga click aquí y baje el formulario de Certificación de Originalidad y la Cesión de Derechos de Autor.
En cada uno de los campos para rellenar haga click y complete lo correspondiente.
Una vez llenos los campos, copie al final su firma escaneada o firma digital. Favor ajustar el tamaño de la firma en el formulario.
Finalmente, lo puede guardar como pdf y enviarlo a través de la palataforma OJS, como archivo complementario.
Si tiene dudas contáctenos, por favor.